About Us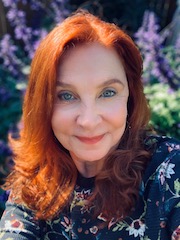 Kay Vogel is an Esogetic Colorpuncture Instructor and Practioner working as an Associate of the U.S. Esogetic Colorpuncture Institute since 2011. Kay combines ancient Chinese and Egyptian knowledge of esoteric medicine with scientific insights of quantum physics and technological possibilities. She is trained in Colorpuncture, Behavioral Iridology, Upledger CranioSacral Therapies, and Peter Levine SE Trauma Release. Kay uses a Energy Emission Analysis camera in her practice that captures an energy reading of the client and gives insightful information into which level–body/matter, emotion/energy or spirit/information the clients trauma, pain or disease is blocked. With this information she is able to create an effective individualized approach to facilitate healing.
After a successful career as Founder and CEO of a woman owned marketing firm, Kay chose to follow her bliss and combine her life experiences to facilitate Healing, Peace, and Joy in the lives of others. Kay studied Peter Mandel's Esogetic Colorpuncture at the Institute for Esogetic Colorpuncture, USA and is one of fewer than 20 Certified Colorpuncturist in the United States that has completed the "Diplom" mastery level of Colorpuncture. She is also certified in Kirlian Energy Emission Analysis and Somatic Experiencing®.
Kay is a long-standing member of The National Association of Women Business Owners and has been named by NAWBO as one of Houston's Top Ten Women Business Owners. She has also been featured in the Houston Business Journal's Who's Who and in their top 50 Book of Lists. Kay served 5 years on the Board of Directors of Children At Risk, a non-profit organization that through research and advocacy creates better lives for the children of Greater Houston. She is a prison facilitator volunteer for "Bridges To Life", helping to make a difference in the lives of both prison inmates and victims of crime. Kay utilizes her experience in the corporate world and her passion for holistic healing to be a catalyst for creating positive outcomes in the lives of others.
Level of Training:
Diplom" Mastery level accreditation for Colorpuncture and EEA 2008
Peter Mandel, Esogetic Congress 2006 "The Therapy – I-Ging on the Body" Switzerland
Markus Wunderlich– "The Therapeutic Consequences of Recurring Dominant Structure in the Different Emissions of the EEA Picture" Switzerland
Tree of Life Crystal Bardo Training
Markus Wunderlich – Esogetic Colorpuncture Advanced Training Level I
Transmitter Relays
Kirlian EEA I
Kirlian EEA II
Kirlian EEA III
Basic Practitioner Certification Training
Esogetic Colorpuncture Advanced Training Level II
Additional Training:
The Upledger Institute – Lymph Drainage Therapy I
The Upledger Institute – CranioSacral Therapy I
American College of Acupuncture & Oriental Medicine, Chinese Face Reading
Behavioral Iridology